For those looking for a bow but don't have much moola, check out Pacific archery. Its on Schiff street. Turn South on Wynn street from Spring Mountain (Chinatown area) and turn East on Schiff (last row of commercial buildings) its the first store.
I bought a 35# used Recurve bow from them for $25! Yep, $25! It's one of his old rentals, is a takedown bow (you can unscrew the limbs and take it apart) and its all metal. I checked the Manual of Arms and Book of War and can not find any rule specifically banning a Metal Bow. Metal is not allowed in the striking surface of any weapon, but you don't strike anyone with a bow. Unless someone can proove otherwise, metal bows should be okay.
The bows are painted in khaki paint. And what are the realm colors???? Khaki and red boys and girls. They need to be repainted. I'm redoing mine in either gray, or some faux fur or some red felt.
I think he had a few more hanging up there but if you want to email him, his name is gabe and this is the email to use:
dbozarth@pacificarcherysales.com
Also, he had quite a few teens in the shop interested in Archery, so I spoke to him about Dag and what I was going to use the bow for. I asked him if he would allow us to put up a brochure or flyer somewhere in his shop. He said sure, he'd keep it up by the register and explain to people what we do and who we are, etc.
So I'm going to work on a small brochure and this is going to be the lead picture: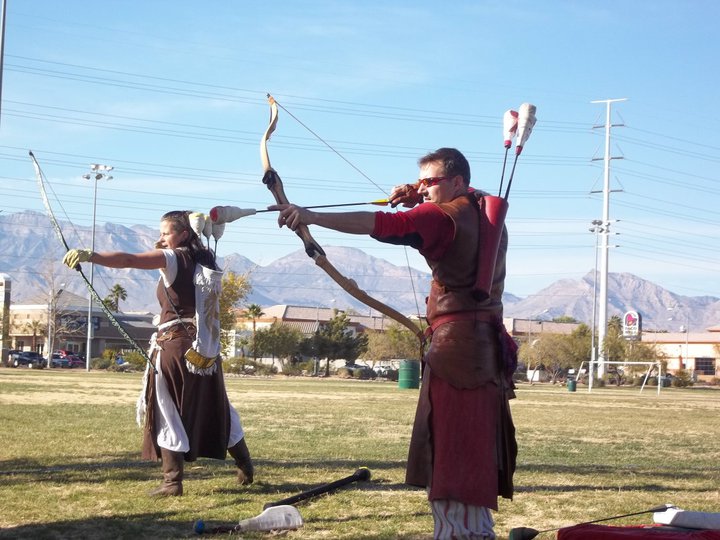 Konradr