The original 'Ides of March' apparently is in Georgia and hosts about 200 fighters. The pheonix, Arizona realm of Fugl Brenna (which is both Dag and Bel) is hosting a one day event called the Ides of March on March 12, which is a Saturday. This is the particulars posted on facebook:
Quote :

We are hosting a day event! Bring your best garb because we will be filmed!
Weapons Check is at 10:30
Fighting Starts at 11:00
Nothing posted, as yet, about any fee's or feasts.
According to Google maps, its a straight 310 mile stip down H93 to Tempe. close to 6 hours on the road. Then of course the ride back that night.
We met these guys at War of Reckoning. Pic here: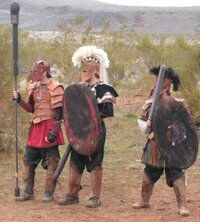 If anyone is thinking of attending, hash it out here.
Konradr