With Fool's Raid looming again. Let's look at what really works for large bodies of folks on the field.
1. obviously any 2 sided field battles, weather with regen or without, works great.
2. Unit and Realm battles are fine.
3. Castle siege games might work in lieu of Goblin horde.
4. Goblin Horde, while fun, is violent so if folks are ok with that, then by all means.
5. Outpost 7, our own home brew game. It has been criticized at both Fool's Raid 2010 and King's Tourney. What if we changed it up slightly thus: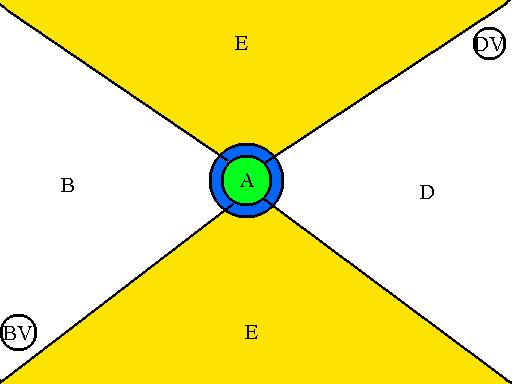 A = The Guardians island, with jumpable moat (but not swimable). Relic in the dead center. Guardians numbers should be balanced as to completely destroy the mechanics of the game.
B = The area of the Barad'dun Adventurers.
BV = The Barad'Dun village.
D = The area of the Dark Fellowship.
DV = The Dark Fellowship village.
E = Out of Bounds.
This keeps the two fellowships from just ignoring the guardians and makes the Guardians have to fight both sides. The object is still to get the relic, cross the moat and get it back to your village.
6. I also like forkbeard's version of capture the flag with two bridges, swimable river and throwable flags.
7. I also like the idea of Boat battles that forkbeard ran at Samhain.