As a Realm we need battlefield recognition. I know the Royal Army will eventually have Sashes and uniforms, etc. But as a Realm, as Barad'dun, we should be identifiable on the field when we engage other realm's or units that we visit or are visiting. This includes the Royal Army as well as the Mercenaries that fight beside us. Garb is one key to recognition, but another is shields, specifically War shields.
I think we should decide on a type, size and design of a war shield that we can use for inter realm fighting. If we all stand behind a wall of the same type of shield, in the same colors and patterns, we are then a recognizable unit. The Royal army cold be further identifiable by an emblem on their shields, while mercenaries would be free to have no emblem or their own personal emblem's. But the shields would be uniform and standardized as far as size and colors and pattern. Here are two images demonstrating the different shield types and color patterns.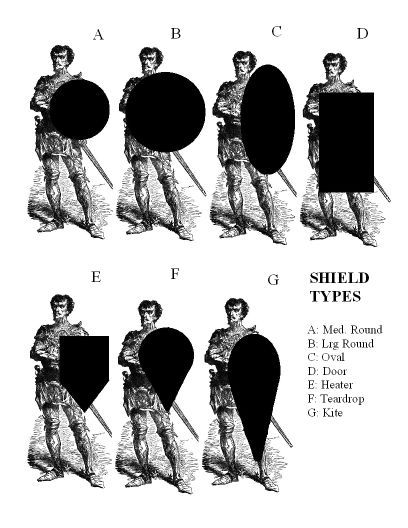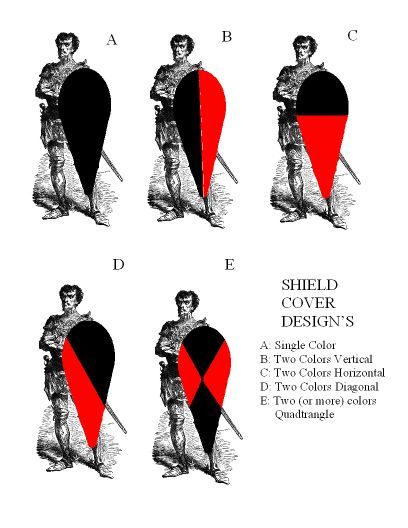 The size, type and its cover are what would be standardized. The construction would be up to the individual, weather with a core (Plywood or Plastic) or coreless (dense foam or layered closed cell) and the grip would be up to the individual as well, Strapped or Center grip (Called a punch shield).
PRO's and Cons: (Feel free to add more if you wish)
Large shields are better at protection, but tend to weigh more and may hinder some offensive moves as well as close in fighter's can use your shield for cover.
Strapped shields evenly distribute the weight and thus do not tire the arm out as quick as punch shields.
Strapped shields can only stay close in to the body, Punch shields can be moved everywhere, close or farther out.
Strapped shields are more solid if hit, run into, kicked, etc. Punch shields flop around.
Heavier shields (Those with cores) tend to absorb hits and not flop around more than coreless shields.
Cored shields still use some Historical techniques in construction. Coreless are purely modern sport designs.
Rounds and Doors are the easiest to make.
Doors give great passive and active coverage but are heavier to move around and carry. Door can be rested on the ground.
Ovals are an attempt to make a shield with as much coverage as a Door without the added weight.
Heater and Teardrops are attempts to make the round cover better on the legs without adding weight.
Kite's were the last great innovation of the Shield. They give better protection to the legs than the teardrop or Heater but were more of an invention for cavalry than Infantry. Infantry may find them a little cumbersome.
Colors for shields need to be decided as well as designs.
I was thinking we could make the next Weapon's build day a Shield Build and build standardized Realm war shields once we have decided on the shape, size and colors.
I will write up how I put together my round shield because it has solid foam construction on front and back and edges. I will describe grip types as well, but this will have to wait til tonight, after work. So I must be off.
To be continued.....
Konradr